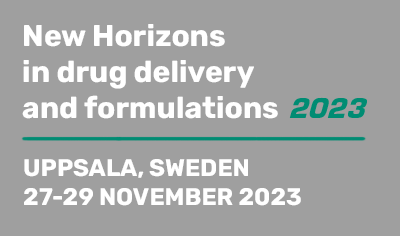 New Horizons in Drug Delivery and Formulations 2023
Welcome to an event where industry and academia can meet, present and discuss current advances and challenges in drug delivery and formulation!
The last years have shown us the importance of formulation technology to meet the needs to solve challenging medicinal problems. New challenges in drug formulation are created by the current developments in new modalities. There is also a high demand for innovative pharmaceutical dosage forms to meet patient compliance as well as pharmacological needs of new medicinal products. To meet the need of new and improved therapy strategies, two competence centers and a university consortium, NextBioForm, SweDeliver, and Nordic POP, focusing on different challenges within drug delivery and formulation has been formed.
NextBioForm is a collaborative center combining industry, academia and healthcare sector and focuses on exploring possibilities for formulation of biological modalities, ranging from peptides and proteins, such as antibodies and enzymes, to probiotic bacteria.
SweDeliver is a multi-disciplinary collaboration between academia and industry focusing on outstanding research challenges within parental drug delivery, oral drug delivery and pulmonary drug delivery.
Nordic POP (patient oriented products) is a Nordic university consortium aiming to provide the scientific foundation for the next generation pharmaceutical products by strengthening the interdisciplinary projects between the project partners.
While the two centers focus on different and complementary research questions, the two centers have a strong common interest in creating a forum to share progress and discuss prospects and ideas around drug delivery- and formulation. NextBioForm, SweDeliver and Nordic POP therefore proudly present the joint event New Horizons in Drug Delivery and Formulation 2023!
Photographer of UKK building: Magnus Hörberg
Important dates
31 October Abstract submission closes (Extended date)
late October Abstracts reviewed and notifications sent continously. 
3 November Deadline to register
27-29 November  Conference dates

Important dates
31 October Abstract submission closes (Extended date)
late October Abstract notification
3 November Deadline to register
27-29 November  Conference dates